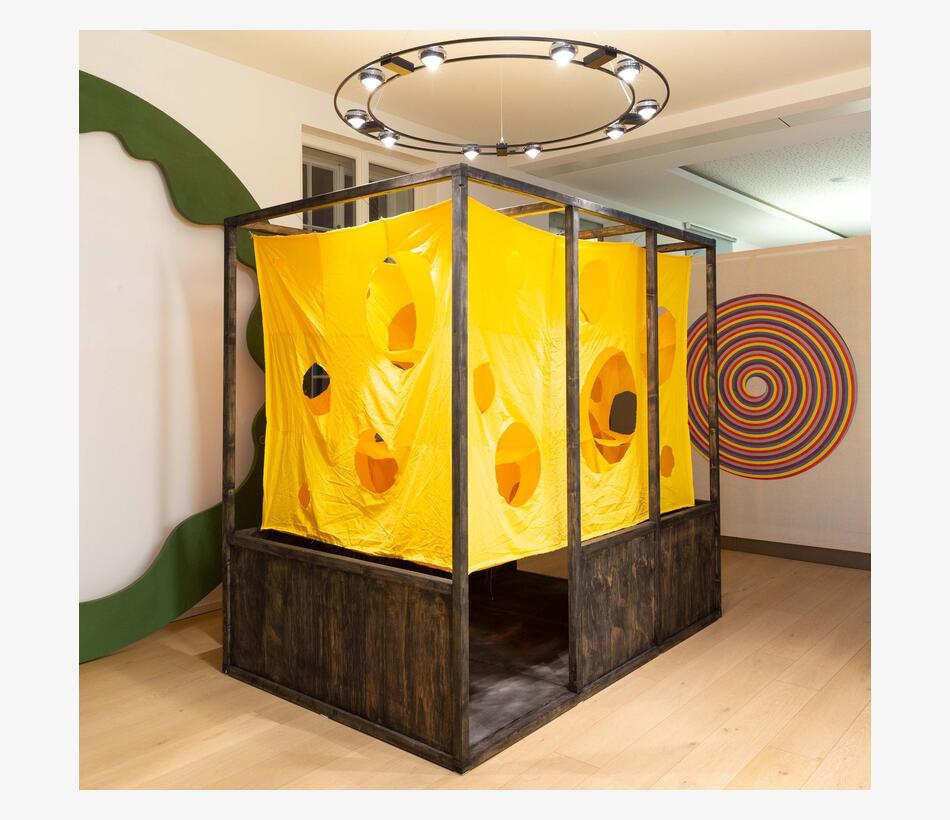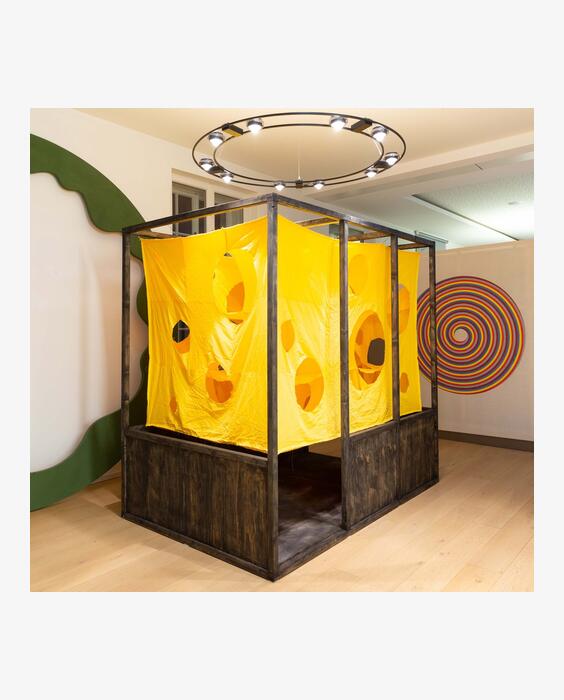 Vincent Tavenne, Untitled, 2015–2018
Fabric, wood, gouache, 215 x 147 x 225 cm
Courtesy of the artist and the Galerie Hammelehle und Ahrens, Cologne
Vincent Tavenne's cheese-fabric sculpture was first exhibited in Berlin where it was installed in a gatehouse on an abandoned industrial estate as part of a project. Its 'second' life came when Tavenne created a 'casing' for the cheese, completely separately and without any external assistance since this year's exhibition at the Galerie Hammelehle und Ahrens in Cologne where Tavenne addresses the issues of the interaction and blessings of the internet and social networks. In this context, the work has quite literally become an 'interactive cheese' which emphasises its mediatory role in the current exhibition between the artist's two other works.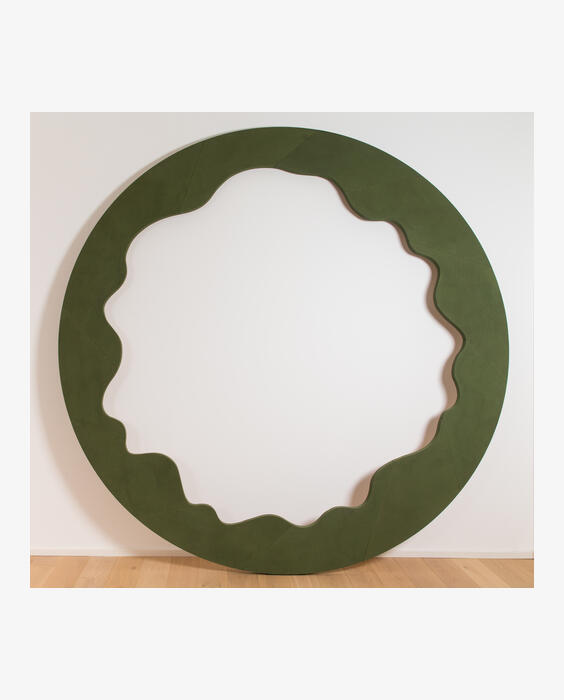 Vincent Tavenne, Ohne Titel [Untitled], 2003
Wood, polystyrene, gouache, metal \ 300 x 300 x 4 cm
Kollitsch Collection
The starting point for a comprehensive group of works, which addresses the theme of the circle in all its complex symbolism, lies in the magnificently illustrated Bible moralisée, the Codex Vindobonensis 2554 of the Austrian National Library. The cover picture with 13th century Gothic lettering shows God as the creator of the world, shaping the earth with an oversized compass. Based on this, Vincent Tavenne depicts the outer edge of this ancient disc as a vast loose object with cosmic sculptural impact.
Vincent Tavenne, Ohne Titel [Untitled], 2003
Gouache on canvas \ 220 x 160 cm
Kollitsch Collection
Inspired by a mediaeval depiction of God as the creator of the world, this cycle of works by Vincent Tavenne creates gouache paintings and objects of different formats, materials and colours based on the circle whereby the artist draws on the theme of cosmic order. Spirals, wave forms and organic elements unfold endlessly and create universal connections, harmonised in circle forms.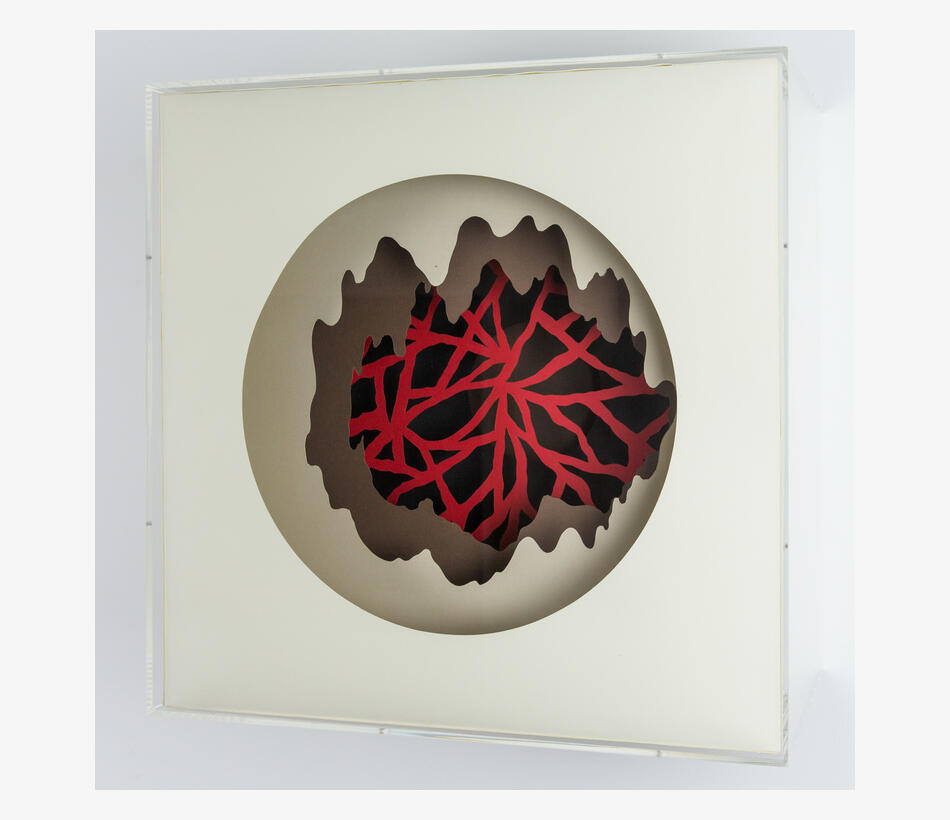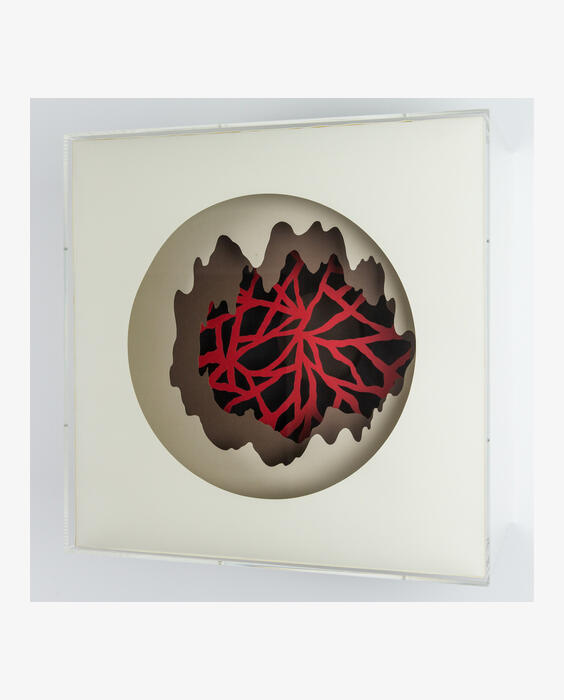 Vincent Tavenne, Ohne Titel [Untitled], 2013
Paper, gouache, Plexiglas \ 44 x 44 x 27 cm
Courtesy of Hammelehle and Ahrens Gallery, Cologne
In Vincent Tavenne's diverse work which draws on the themes of human perception and the subjective definition of self-constructed individual reality, we encounter display windows which captivate with their bizarre content. These 'psycho-boxes' invite us to step inside a miraculous mini-cosmos and interact ourselves as the transparent reflection of our own mirror image in the glass window.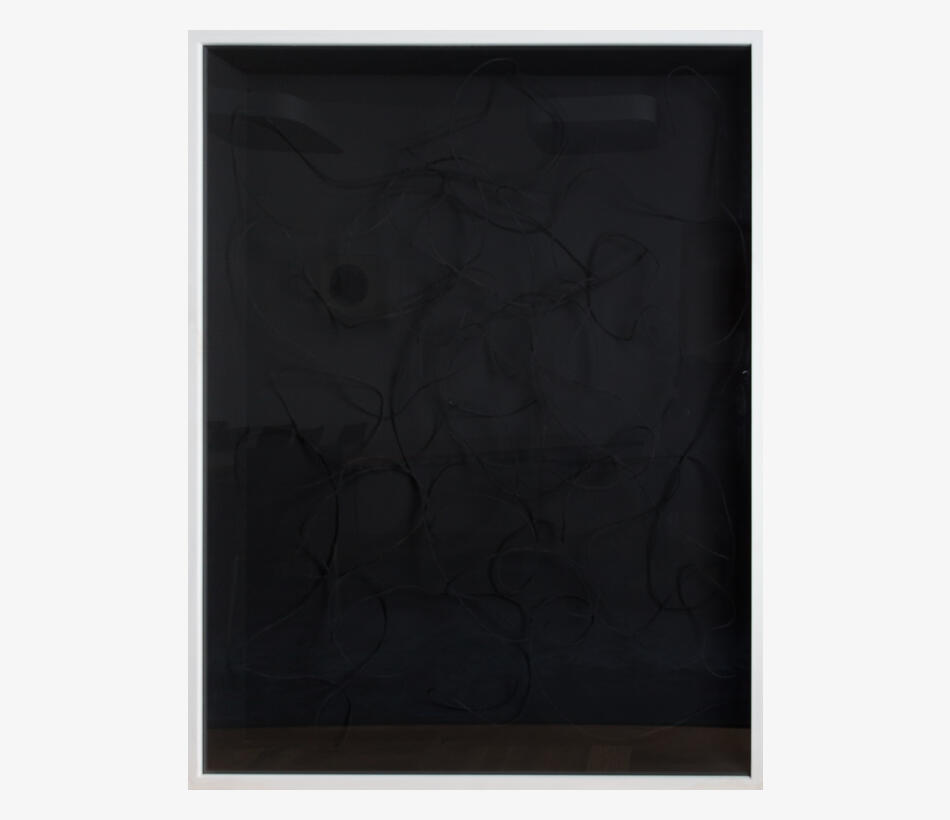 Vincent Tavenne, Ohne Titel [Untitled], 2008
Wood, wire, paper, gouache, Plexiglas \ 200 x 150 x 30 cm
Courtesy of the Hammelehle and Ahrens Gallery, Cologne